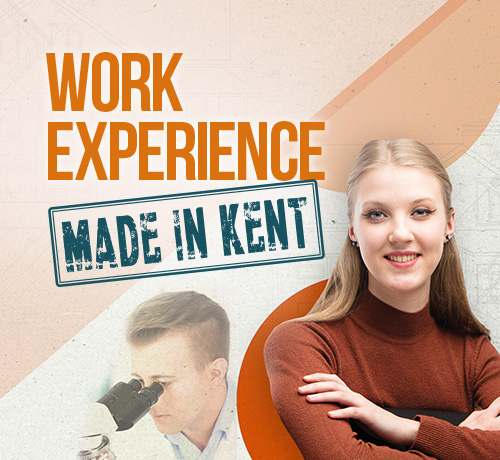 If you want to develop your skills in a workplace environment, then consider a work experience with us. Our work experience scheme is open to all people who live or study in Kent.
We are one of the largest employers in Kent and offer a variety of different jobs. We provide more than 300 work experience opportunities every year across the organisation, including social care, ICT, finance, Kent Scientific Services, highways, customer services, the film office and administration.
There are currently no work experience placements available. However, we may be able to offer placements in the following areas:
communication and literacy
numeracy
using computers, computer programmes and office equipment
business and customer awareness
working in a team
showing commitment and initiative
problem solving.
Current work experience placements
Transformation (based in London) - Desk based research, SharePoint (searching, filing, cataloguing), taking notes/shadowing in internal meetings, general admin duties
Kent Film Office – over 18s only.
We may also be able to offer the following placements:
adult social care
care work
contact centre (Agilisys)
countryside access
children's centres
Kent Scientific Services
Kentish Stour Countryside Partnership
libraries
Medway Valley Countryside Partnership
North West Kent Countryside Partnership
satellite services - an insight into health and social care
school financial services
social care for older adults
sports and leisure.
Owing to high demand and limited opportunities, we are only able to accept placement requests from Kent residents.
Apply online for work experience
Tips for completing the application form:
read the questions carefully
keep to the point, focus on your achievements, using examples proving you can do what you say you can
research your area of interest to show you are motivated and keen to experience the type of work
be honest in your application
check your spelling and grammar are correct - it is often helpful to get someone else to check as well.
When you have submitted your application you will get an email to confirm it has been received. Once reviewed your application will be sent to the relevant team offering the placement for a final decision.
Due to the number of application forms we receive it can sometimes take a while to review every one, but you will receive notification that your application has been received by us.
Pay
You won't be paid for any work and we don't reimburse any expenses, for example travel to and from your work place.
Hours
Your working hours will be put in your placement schedule. They will not be more than 8 hours a day and will not start before 7am or finish later than 7pm. You will also work no more than 5 consecutive days out of 7. Regular breaks will be provided throughout the day.
Looking after you
You will be provided with a contact name for your placement who will be responsible for you. They'll make sure you know what you are doing and be there in case you need any support or advice. Your contact will also help you to find out about the jobs they do and get you involved where appropriate.
Health and safety
We take the health and safety of all our employees seriously. All of the department managers are required to assess and address the risks to young people before they start their work placement.
Please note your school will be responsible for completing a health and safety check.
If you need more information email workplacements@theeducationpeople.org.