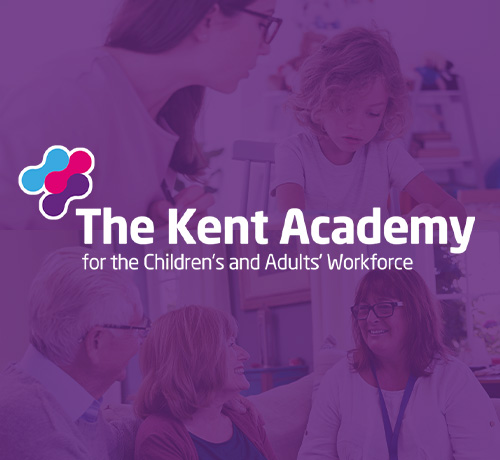 We are proud of the development opportunities we offer in Kent and are committed to offering high quality continuous professional development for all our staff.
The Kent Academy for the Children's and Adults' Workforce is our dedicated platform where you will be thoroughly supported and encouraged to better your knowledge, skills and practice, no matter what role you hold within the service.
The academy is home to several faculties including Student, Professional Development and Research. It offers easy access to:
training courses
development programmes
videos
resources
blogs
research material (including Community Care Inform).
In addition to a comprehensive strategic training and safeguarding framework we offer:
annual conferences and masterclass events with keynote speakers
joint events with health partners and police
annual practice educator qualification
new practice framework development programme.
Our Practice Development Team offers excellent practice related training and support, virtual communities of practice and reflective workshops.
We actively encourage the use of apprenticeship training with a range of social care related apprenticeships available including the social work degree apprenticeship.
You will have professional responsibility to keep your knowledge and skills up to date in line with Social Work England's Continuing Professional Development requirements, and to continually strive to be the best practitioner you can be.
Capability framework
We have developed a capability framework for registered workers based on the Professional Capabilities for Social Workers and College of Occupational Therapists' Post Qualifying Framework.
The aims of the framework are to:
support you to develop capability in your profession
enable you to progress in your career so that your expertise can be used in the best way possible for the people of Kent
ensure that you can remain registered (as a social worker, occupational therapist or nurse)
set out how we identify and promote talent through clearly articulated career pathways at all levels in the organisation.
Newly qualified social workers
All newly qualified social workers joining Kent are part of the Assessed and Supported Year in Employment (ASYE) programme. This means that during your first year of practice:
you will have weekly supervision for the first 6 weeks, fortnightly supervision for the next 20 weeks and then supervision every 4 weeks after that
you will have a job plan which ensures you have sufficient development time and a reduced caseload during your first year
you will have access to 12 themed development sessions delivered by our dedicated practice educator team
you will produce an online portfolio with the support of your ASYE supervisor or assessor
your assessment will be matched against the capabilities of the newly qualified social worker level of the refreshed Professional Capabilities Framework and the Chief Social Worker's Knowledge and Skills Statement for Social Workers in Adult Services.
Get in touch
If you'd like to know more about The Kent Academy or how we'd support your professional development at KCC, email us at learninganddevelopment@kent.gov.uk.